Cloud | Set up¶
Already have a FusionReactor Cloud account? Then you're good to go.
If you're new to FusionReactor, just follow the easy steps below to register.
Register for a trial¶
FusionReactor Cloud will give you additional powerful capability and innovative ways to analyze your metrics as well as log data.
Starting a free 14-day trial is simple:
Step 1: Register for a Cloud trial account.
Step 2: Login to your new account.
Tip
If you'd prefer to only store data locally on your server or cannot send data to the cloud for security reasons, you can still register for FusionReactor On-Prem.
Info
All FusionReactor users will have the On-Prem (on-premises) implementation (user interface). That's the classic implementation of FR.
Ingest data into the Cloud¶
Use a combination of the four ingest methods to get powerful insight into your full stack.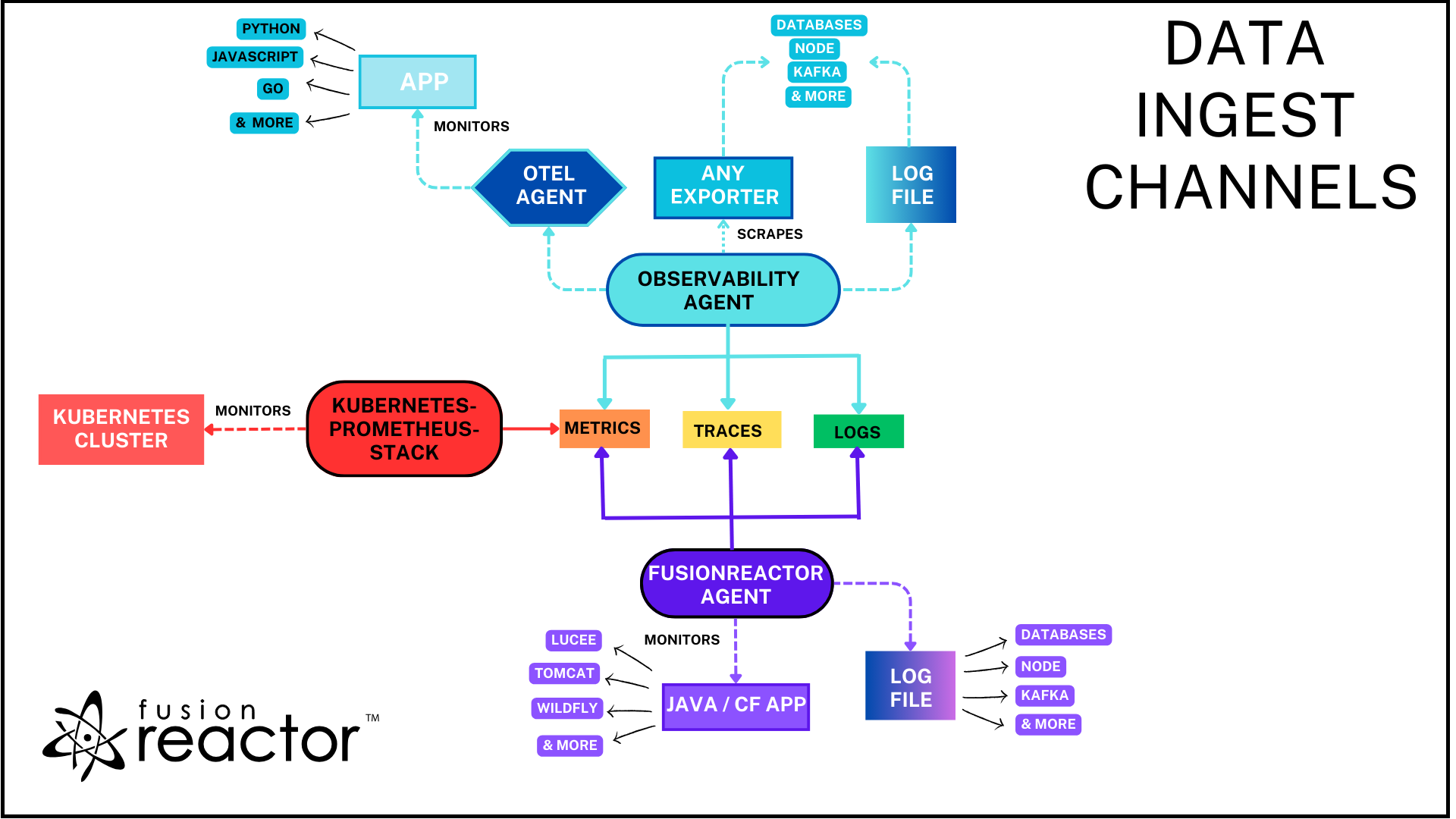 FusionReactor Java Agent¶
With FusionReactor Cloud APM, you can diagnose both live and historic issues with our powerful metrics engine and dashboards.
Our APM goes beyond Java and ColdFusion to deliver a combination of metrics, profiles, logs, and code enabling you to quickly understand and diagnose issues on your application or your server'
Note
Installing the agent also gives access to the On-Premise UI.
Instrument OpenTelemetry¶
OpenTelemetry is an open-source project created by the Cloud Native Computing Foundation (CNCF) consisting of APIs, SDKs, and tools to help developers create, monitor, and export their system data (metrics, traces, logs and more) to observability back-ends. This ensures providers and users gain a broad picture of the application's performance.
Integrate service & tool metrics¶
Integrations allow you to ingest vital metrics to monitor the health of your entire infrastructure, with metrics from all aspects of your application stack. Metric exporters are libraries that expose integration metrics to an agent such as the Observability Agent.
The Observability Agent, an open source autoconfiguration and installation tool, is a wrapper for the Grafana Agent that can install the agent, detect which services are running on your machine, and automatically create a configuration file with integrations for detected services.
Prometheus agent or Grafana agent, which allows you to send data to one or more data collection endpoints.
Ingest logs¶
Logging is a new addition to FusionReactor, allowing you to monitor logs from any location alongside your existing FusionReactor data. With log data readily available, you can resolve issues more quickly and efficiently, which can improve your overall application performance and reduce downtime.
Visualize your data¶
With FusionReactor Cloud, you can diagnose both live and historic issues with our powerful metrics engine and dashboards.
---
Need more help?
Contact support in the chat bubble and let us know how we can assist.