Releases
FusionReactor 11¶
FusionReactor, the renowned application performance monitoring (APM) tool, has reached version 11.0.0. This release provides a significant improvement in security updates, reflecting the company's commitment to keeping your applications safe and secure. However, one notable change in this release is the discontinuation of Java 7 support, a decision made to address critical CVEs (Common Vulnerabilities and Exposures). We're also happy to announce integration with the upcoming Deep release as well as support for WebRequest tracking within servers using Jakarta servlet, which includes later versions of Tomcat and Wildfly amongst others.
OpsPilot Assistant¶
At FusionReactor, we're no stranger to the demands of on-call responsibilities because we've encountered those high-pressure situations ourselves. We're also passionate about discovering innovative solutions that enhance an engineer's daily routine, particularly in the realm of incident response management. That's why we're thrilled to unveil OpsPilot, an industry-first, fully launched, and production-ready assistant that serves as the cornerstone of FR Cloud.
Our trusted assistant is the equivalent to having a team of experts on-call, 24/7. With OpsPilot Assistant the opportunities are endless. Conduct a series of automated system evaluations, promptly bringing potential issues in your entire environment to the surface. Or simply pose a question, then let OpsPilot delve into the depths of your system, bringing forth insights that are not just data-driven but context-aware. Armed with the vision provided by OpsPilot, you can swiftly pinpoint the core of any problem and streamline your resolution process for greater efficiency. OpsPilot transforms complex application landscapes into understandable conversations, empowering you with real-time insights at the speed of thought.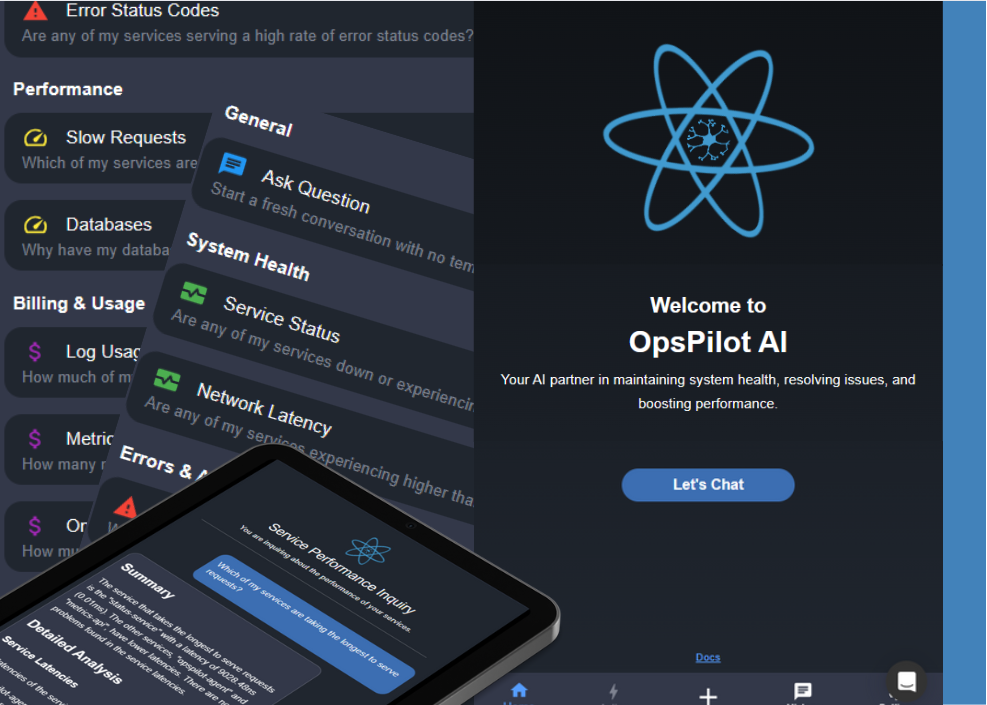 Enhanced dashboard navigation¶
We're thrilled to introduce some exciting enhancements to our dashboards providing you with even more powerful data insights! In our latest update,we've improved the user experience by allowing variables and time picker settings to seamlessly pass between dashboards. Our update allows you to move easily between dashboards ensuring you never lose context while exploring your data as all filters and time values are retained as you switch dashboards. To make navigation a breeze, we've improved the search facilities allowing you to effortlessly locate any dashboard you require. The newly incorporated dropdown dashboard links make it easier than ever to access the information you need. These updates are designed to streamline your dashboard experience and empower you to make data-driven decisions effortlessly.

Servers update¶
We're excited to unveil the latest enhancements to FusionReactor's servers view, designed with On-Prem parity to elevate your monitoring and troubleshooting experience. Our team has diligently worked to make the servers view clearer and more accessible than ever before. With a refreshed interface, intuitive navigation, and streamlined information presentation, gaining insights into your server's performance has never been easier. Whether you're a seasoned developer or just starting your journey, you'll appreciate the enhanced visibility into key metrics, real-time updates, and advanced analytics, all thoughtfully organized for effortless comprehension.

FusionReactor 10.0.2¶
FusionReactor 10.0.2 revolutionizes how you monitor and view your data. Latest updates include cloud support for M1 Macs and new cloud transaction views or filters such as error history, longest transactions, slow transactions and more. Further improvements allow you to configure Request Content Capture to only capture responses as well as the ability to capture either headers or body only.
Warning
Cloud data now requires FusionReactor to be running on Java 8 or above. Live data will still work for Java 7.
Oracle Database Monitor¶
Introducing the latest advancement in monitoring capabilities — FusionReactor's cutting-edge integration with Oracle Database which uses metrics you can easily send to FusionReactor using the Observability Agent. Seamlessly embedded within the FusionReactor ecosystem, the Oracle Database Monitor offers comprehensive visibility into critical database metrics, query execution times, resource utilization, and more. Try FusionReactor's Oracle Database integration to collect key performance metrics on databases, tablespaces, and memory by default and experience firsthand the transformative potential of enhanced Oracle monitoring.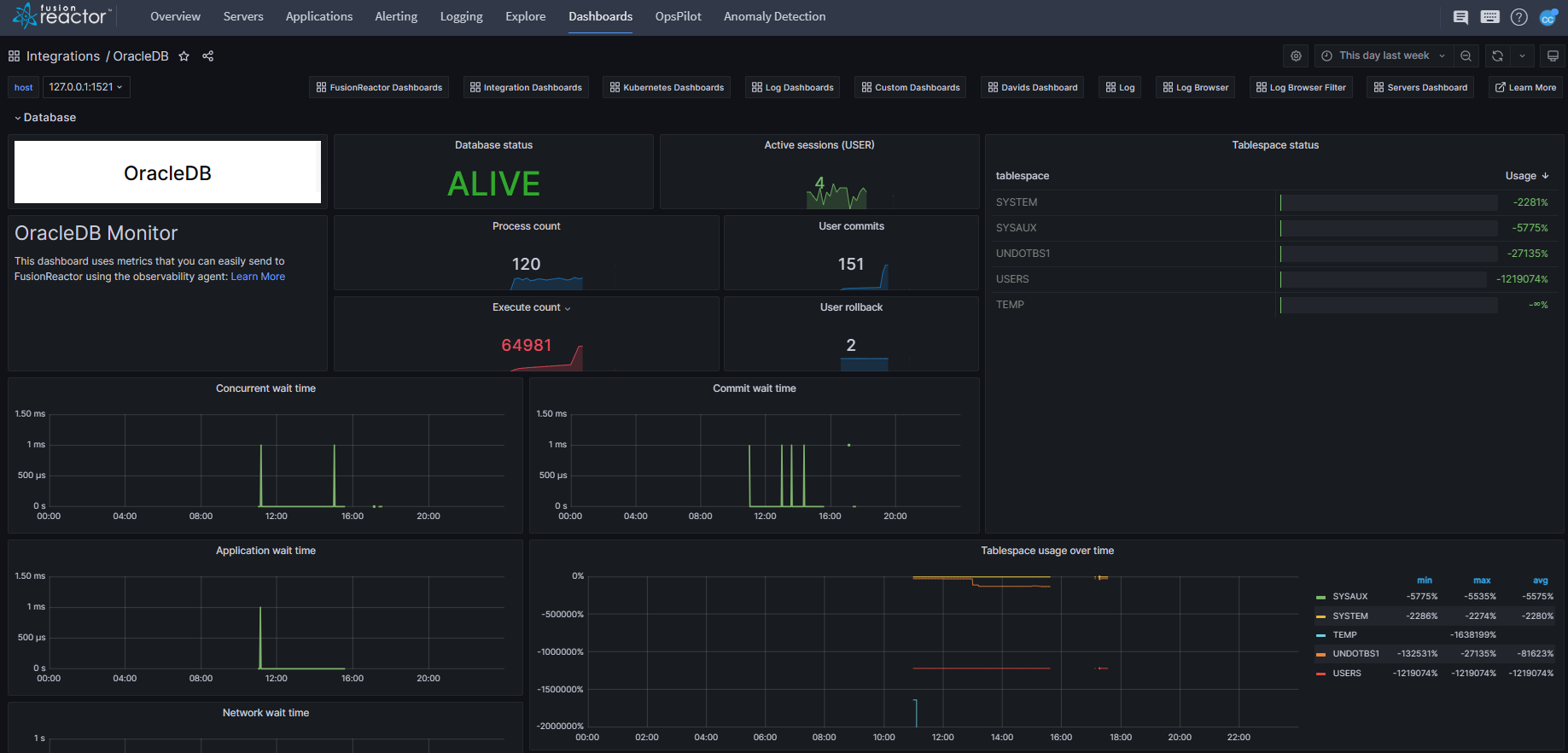 Custom Dashboards¶
In the latest update of FusionReactor, we are excited to introduce our new feature - Custom Dashboards. This powerful tool allows users to create their own personalized dashboards, providing a tailored view of their application's performance metrics. Users can now monitor the metrics that matter most to them, all in one place. The custom dashboards are fully customizable, enabling users to add, remove, and rearrange metrics according to their needs. This feature aims to enhance user experience by providing a more streamlined and efficient way to monitor applications.
Redis Dashboard¶
View your metrics in minutes with FusionReactor's new out-the-box Redis Dashboard. Improve visibility into what's happening in your environment by observing metrics from the Redis exporter. Our Redis Dashboard uses metrics that can easily be sent to FusionReactor using the Observability Agent. It enhances operational efficiency, facilitates troubleshooting, and helps ensure the optimal performance and stability of your Redis infrastructure.
Kafka & Elasticsearch integrations¶
FusionReactor now has Kafka and Elasticsearch integrations which use metrics that you can easily send to FusionReactor using the Observability Agent. By integrating Kafka with Elasticsearch, you can capture and analyze streaming data from Kafka topics in near real-time, enabling you to monitor the health, performance, and behavior of your Kafka infrastructure effectively. Additionally, Elasticsearch's powerful search and analytics capabilities allow you to visualize and explore the monitored data, gain insights, and detect anomalies or performance bottlenecks.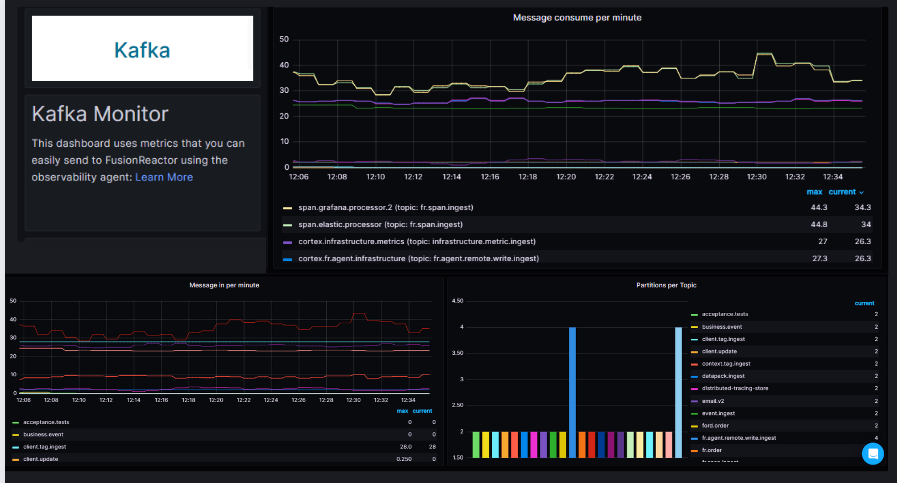 OpsPilot AI¶
OpsPilot AI is an advanced observability solution that leverages generative AI to provide powerful insights into the performance of your applications. By combining real-time data collection, predictive analytics, and natural language queries, OpsPilot AI enables you to identify and resolve issues before they occur, optimize the performance of your applications, and reduce downtime.
Instant Error Analysis & Solutions with FusionReactor OpsPilot AI from FusionReactorAPM on Vimeo.
Kubernetes cluster monitoring¶
Kubernetes allows developers to deploy, manage, and scale containerized applications across a cluster of nodes, providing features such as load balancing, automatic scaling, self-healing, and rolling updates.
To make things easier for you, we have introduced Kubernetes monitoring in FusionReactor Cloud. With this tool, you can automate many of the manual tasks and focus on getting the most out of your Kubernetes monitoring.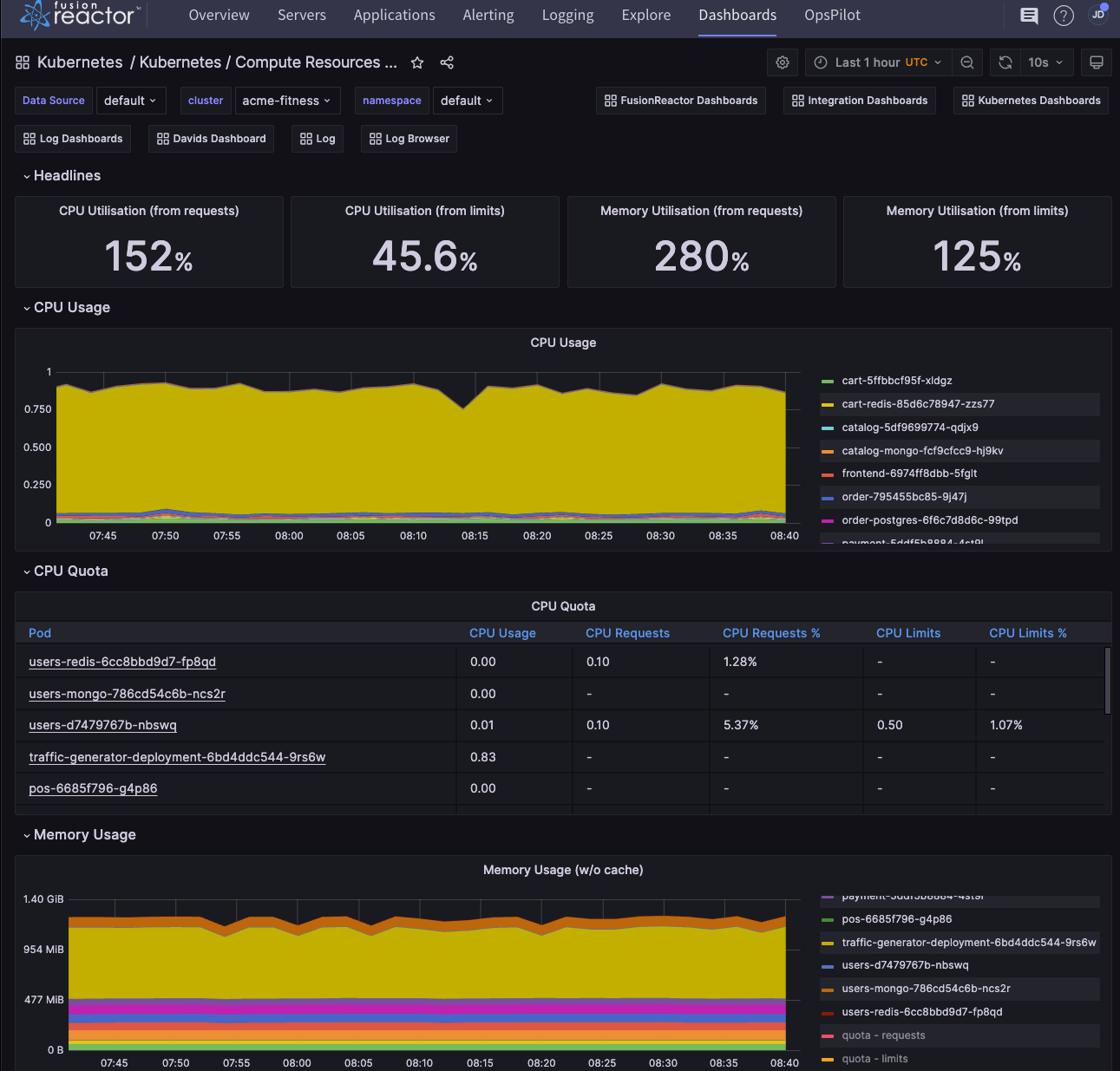 Observability Agent¶
The Observability Agent, an open source autoconfiguration and installation tool, is a wrapper for the Grafana Agent that can install the agent, detect which services are running on your machine, and automatically create a configuration file with integrations for detected services.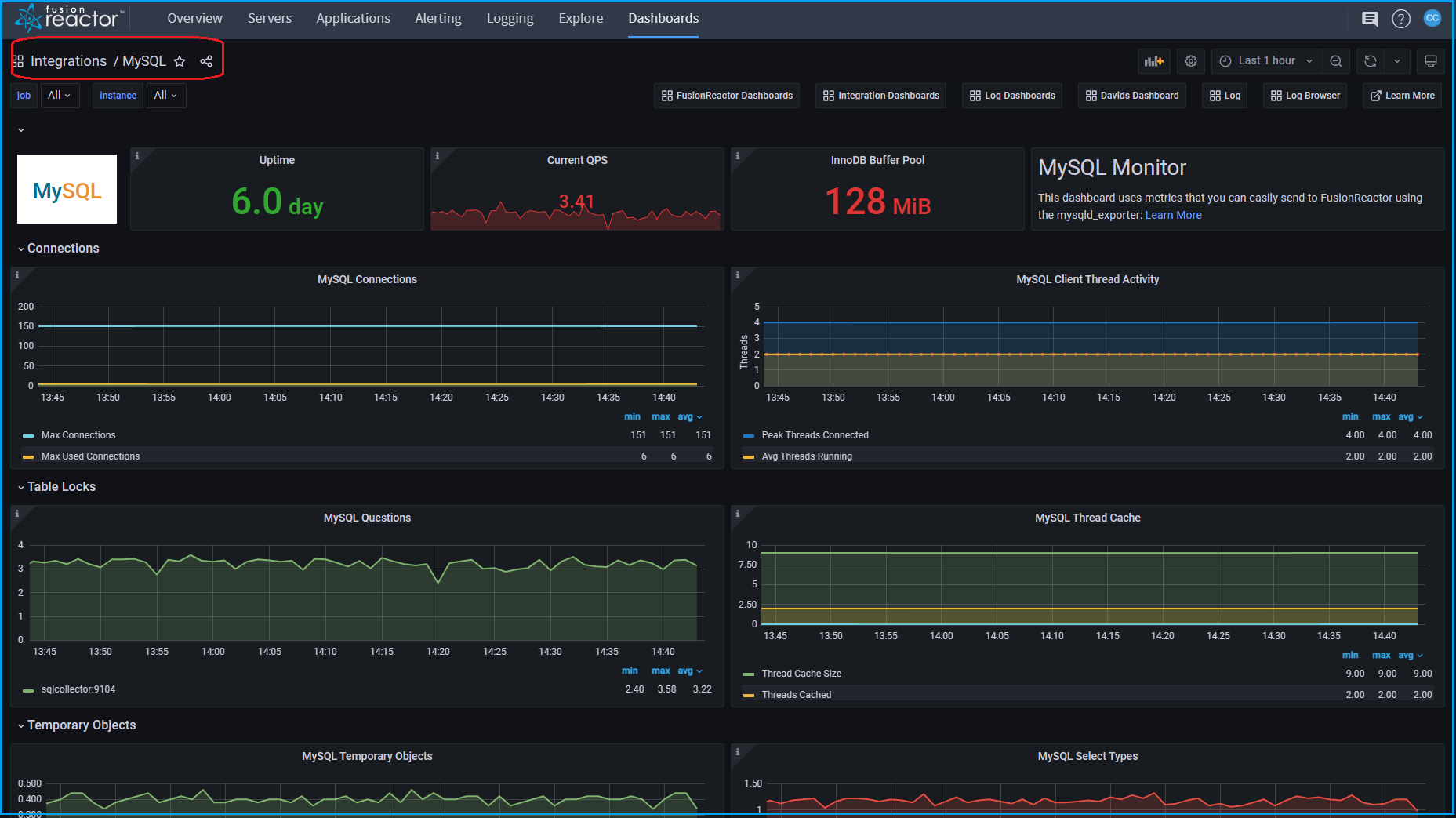 Usage based billing¶
As a complete observability solution, our usage-based billing plan meets your needs in a diverging technical space and we pride ourselves on offering essential observability at sensible prices.
To help keep things simple and transparent, FusionReactor has developed usage dashboards that allow you to visually track your billing data.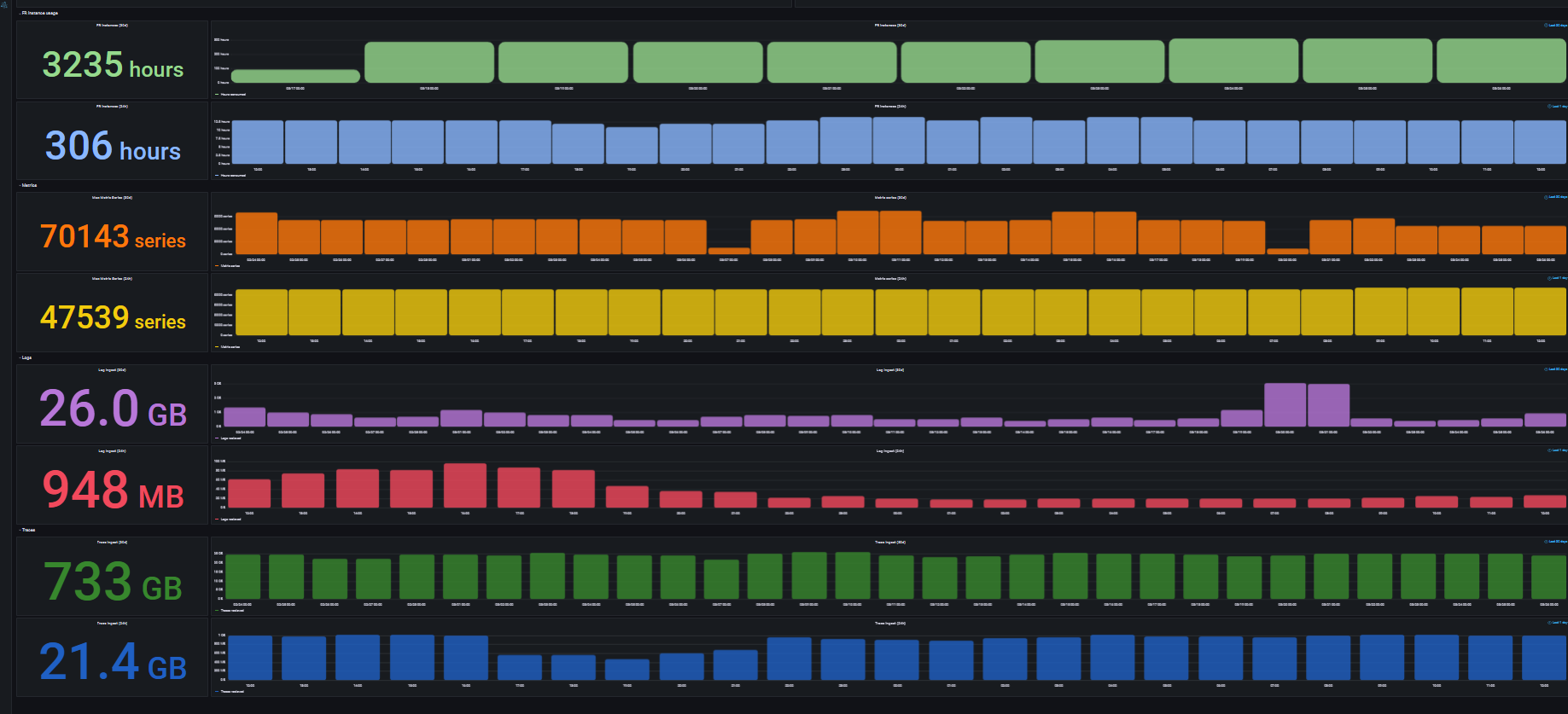 Distributed tracing¶
We are excited to announce the addition of a new distributed tracing within FusionReactor. Distributed tracing is a method used in observability to track the flow of requests as they move through a distributed system. It allows you to see a detailed view of the entire request flow, from the time the request was initiated to the time it was completed.
FusionReactor captures and displays this trace information in a graphical format, so you can visualize the entire request flow and quickly identify any issues or bottlenecks.
Log management¶
Since the release of FusionReactor 9, we are able to ingest and index any log file using Loki.
FusionReactor uses this powerful capability to make it easy to analyze and track system events. We can also automatically link logs to other events such as distributed traces or errors, providing a complete picture of system activity. This makes investigating problems and identifying issues much faster and more efficient which improves overall performance and reliability.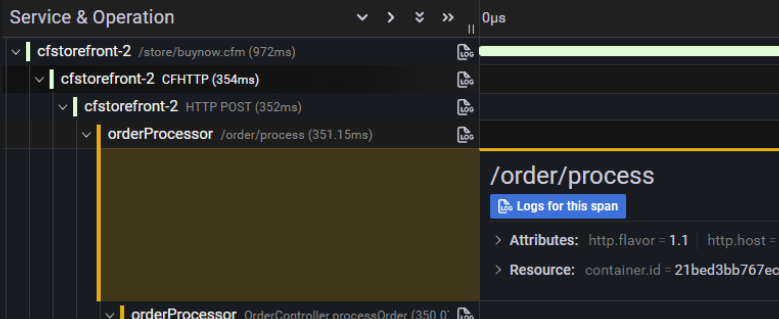 Span metrics¶
FusionReactor has several new Span Metrics dashboards which provide detailed insight into specific parts of a distributed trace through the use of spans. Spans are essentially small pieces of time that represent a specific operation or action within a larger process or transaction.
Measuring span duration and status codes allows developers to quickly identify bottlenecks and problem areas in their application's distributed architecture.
With the ability to view 90th and 99th percentile span duration, developers can easily determine areas that need improvement and take action to optimize performance. This new capability is a powerful tool for improving application performance and providing better visibility into distributed architectures.