What's new in FusionReactor¶
Enhanced dashboard navigation¶
We're thrilled to introduce some exciting enhancements to our dashboards providing you with even more powerful data insights! In our latest update,we've improved the user experience by allowing variables and time picker settings to seamlessly pass between dashboards. Our update allows you to move easily between dashboards ensuring you never lose context while exploring your data as all filters and time values are retained as you switch dashboards. To make navigation a breeze, we've improved the search facilities allowing you to effortlessly locate any dashboard you require. The newly incorporated dropdown dashboard links make it easier than ever to access the information you need. These updates are designed to streamline your dashboard experience and empower you to make data-driven decisions effortlessly.

Servers update¶
We're excited to unveil the latest enhancements to FusionReactor's servers view, designed with On-Prem parity to elevate your monitoring and troubleshooting experience. Our team has diligently worked to make the servers view clearer and more accessible than ever before. With a refreshed interface, intuitive navigation, and streamlined information presentation, gaining insights into your server's performance has never been easier. Whether you're a seasoned developer or just starting your journey, you'll appreciate the enhanced visibility into key metrics, real-time updates, and advanced analytics, all thoughtfully organized for effortless comprehension.

Coming soon...¶
FusionReactor 11¶
FusionReactor, the renowned application performance monitoring (APM) tool, is gearing up for the release of FusionReactor 11. This upcoming release promises a significant improvement in security updates, reflecting the company's commitment to keeping your applications safe and secure. However, one notable change in this release is the discontinuation of Java 7 support, a decision made to address critical CVEs (Common Vulnerabilities and Exposures).
OpsPilot AI Assistant¶
FusionReactor's latest innovation, the OpsPilot AI Assistant, is a game-changer for productivity. This cutting-edge assistant harnesses the power of generative and causal AI, empowering users to achieve higher levels of efficiency and effectiveness in managing their systems. What's even more exciting is that OpsPilot AI Assistant is continuously evolving. Soon, it will offer continuous forecasting and anomaly prediction capabilities, encompassing multidimensional baselines, application traffic, and service load. Notably, it is highly attuned to all seasonality and patterns, making it an invaluable tool for proactive system optimization and performance enhancement. This development reinforces FusionReactor's commitment to staying at the forefront of technological advancements in the realm of application performance monitoring.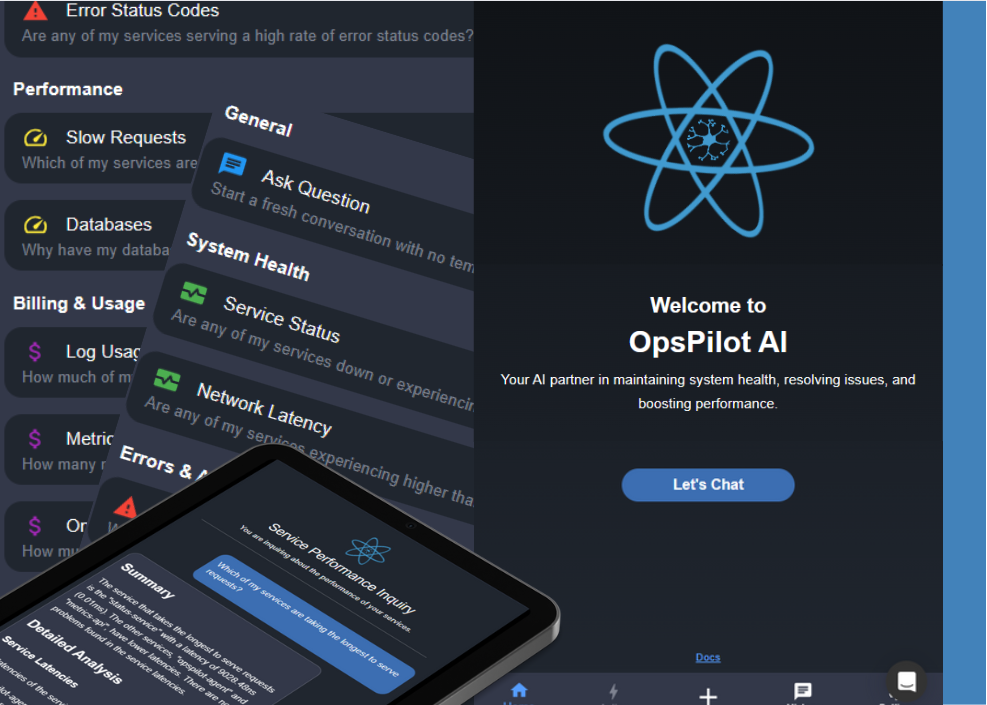 Deep¶
FusionReactor is in the process of adding an insightful tool for developers to the platform. The new Deep integration will provide AI powered root cause analysis to help solve issues quickly and instantly debug in production with no restart or redeploy required. With Deep, your team will be able to concentrate on delivering innovative features rather than spending valuable time debugging.
Anomaly detection¶
Our latest enhancements to anomaly detection include a brand new panel that provides insights into read/write rates and the total number of metric values processed by anomaly-detection-services, giving you a comprehensive view of system performance. Moreover, we've added support for user-defined time ranges in queries, allowing you to customize your anomaly detection settings to your exact needs.
Further integrations¶
Exporters are available in many forms and allow you to monitor many aspects of your infrastructure. With Kubernetes already added, FusionReactor Cloud will very soon be able to offer more integrations such as AWS, GCP, Mongo and more.